Thursday, December 1, 2005
CDC MMWR: Severe Clostridium difficile
Severe Clostridium difficile--Associated Disease in Populations Previously at Low Risk --- Four States, 2005
Friday, November 25, 2005
How much caffeine does that drink have?
I've written before about caffeine addiction in surgical patients. In recent years there's been an explosion of caffeine-containing beverages. Having some idea of the caffeine content of the major ones can help you choose an appropriate dose.
The Energy Fiend web site has a nice Caffeine Database. I found it via a recent NYT article.

Wednesday, November 23, 2005
C-section rate in USA reaches 29.1% in 2004
" Despite the evidence of risks associated with cesarean section, the rate of birth by cesarean section in 2004 in the USA registered at 29.1 percent, the highest ever recorded. According to the Centers for Disease Control and Prevention (CDC) in a recent report, this figure is an 8 percent increase from 2003, and a 41 percent increase since 1996. "
One of the OB practices at our hospital has a policy that they will not do vaginal births after C-section (VBAC)...largely due to concern about lawsuits.
[Via UK Medical News Today]
Saturday, June 11, 2005
Malpractice Insurance for Bariatric Surgeons Increasing
Other Perils of Overweight - New York Times:
" But after several years in which the surgery was seen as the last best hope by many obese people, a growing array of scientific data shows that the risks are greater than patients realized. One new study reported that almost one in 5 patients had complications after surgery. For one in 20 patients, the complications were serious, including heart attacks and strokes. Another recent study said the mortality rate for the most common type of bariatric surgery, gastric bypass, was one in 200 - a rate higher than for coronary angioplasty, which opens blocked heart vessels.

For thousands of patients, the weight-loss surgery has eliminated debilitating diseases and improved the quality of life. But the threat of malpractice lawsuits against doctors and hospitals, as well as the reluctance of health plans to cover the surgery costs, is creating difficulties for people now seeking treatment. "
The article points to an Annals of Internal Medicine article titled Meta-Analysis: Surgical Treatment of Obesity (Annals is another one of those nice free full-text journals).
[Via Common Good]
Friday, May 27, 2005
Medical Malpractice Law in the United States - Kaiser Family Foundation
Medical Malpractice Law in the United States - Kaiser Family Foundation:
" The Kaiser Family Foundation today issued a new report that explains how medical malpractice law in the United States works and provides an overview of recent trends and reform approaches. The Foundation also posted state-specific data on medical malpractice claim payments on statehealthfacts.org, the free online source of current health and health policy data for all 50 states. "
---
Average U.S. Family of 4 Will Use $12,214 in Medical Products, Services in 2005
Kaisernetwork.org--Average U.S. Family of 4 Will Use $12,214 in Medical Products, Services in 2005, Study Says - :
" The average U.S. family of four will use $12,214 worth of medical products and services in 2005, up 45% from $8,414 in 2001, according to a new report by Milliman, the Washington Times reports (Higgins, Washington Times, 5/26). The report -- the first on consumer health care costs culled from the new Milliman Medical Index -- was based on health insurance information for more than 15 million insured U.S. residents (Whitehouse, Dow Jones/Wall Street Journal, 5/26). The report examined medical costs for a family with two adults and two children under age 10 who were covered by a PPO. It focused solely on costs for medical care at the point of service and did not include health insurance premiums (Washington Times, 5/26). The report also did not examine over-the-counter drug spending and the cost of medical treatments not covered by health insurance (Croghan, New York Daily News, 5/26).

The report found that the average family will pay about 17% -- or $2,035 -- of its total health care costs in 2005, with a health plan paying the remainder. "
The whole report is available here
.
Saturday, February 19, 2005
Wisconsin Hospital Association Launches Web Site Detailing Retail Prices of Procedures
"The Wisconsin Hospital Association on Thursday launched a Web site that allows consumers to compare prices at hospitals statewide for more than 60 'common medical problems,' the Milwaukee Journal Sentinel reports. The site does not list actual prices charged to insurers but rather the 'retail,' or list prices, as well as the overall discount insurers collectively receive off a facility's retail rates for all procedures combined."
The site also contains links to quality information for each facility (example).
[Via Kaisernetwork.org]
---
COX-2 Prescriptions Fell 43% Since Last Year
"The number of COX-2 inhibitor prescriptions decreased by 43% between December 2003 and December 2004, according to a study released on Monday by the pharmaceutical information and consulting company IMS Health, the AP/Seattle Post-Intelligencer reports"
[Via Kaisernetwork.org]
Thursday, February 10, 2005
Does it really cost 800 million dollars to develop a new pill?
Estimating the Costs of New Drug Development: Is it really $802m?:
" Abstract:
This paper replicates DiMasi et al (2003) drug development cost estimates using their published survey cost estimates along with information from a publicly available data set. The results suggest that the expected cost of developing the average drug is even higher than the DiMasi et al (2003) estimate of $802m (in 2000 dollars). The paper estimates the capitalized out-of-pocket cost per new drug to be between $839m and $868m (in 2000 dollars). The paper similarly estimates the expected cost of the average new drug with certain characteristics such as primary indication. It is shown that the expected cost of developing the average HIV/AIDS drug is $479m, while the expected cost of developing the average rheumatoid arthritis drug is twice that, at $936m.
...[continues]..." "
PDF (184k)
[Via Marginal Revolution]
Wednesday, February 2, 2005
Medical Bills, Lost Income Due to Illness, and Bankruptcy
Health Affairs: MarketWatch--Illness And Injury As Contributors To Bankruptcy:
" "In 2001, 1.458 million American families filed for bankruptcy. To investigate medical contributors to bankruptcy, we surveyed 1,771 personal bankruptcy filers in five federal courts and subsequently completed in-depth interviews with 931 of them. About half cited medical causes, which indicates that 1.9-2.2 million Americans (filers plus dependents) experienced medical bankruptcy. Among those whose illnesses led to bankruptcy, out-of-pocket costs average $11,854 since the start of illness; 75.7 percent had insurance at the onset of illness. Medical debtors were 42 percent more likely than other debtors to experience lapses in coverage. Even middle-class insured families often fall prey to financial catastrophe when sick." "
[Via Science Blog - Science News Stories]
---
Tort System Costs
I'm posting these data mainly so I'll be able to find them again at a later date, but others might find the numbers useful as well.
" The tort system now costs every man, woman, and child in America an average of $845 a year, almost 10 times the inflation-adjusted $91 per capita it cost in 1950. The $246 billion-a-year total comes to 2.2 percent of America's gross domestic product -- more than triple the 0.6 percent in the United Kingdom and more than double the 0.8 percent in Japan, France, and Canada. And as of 2002, only 22 percent of all tort costs went to compensate alleged victims' out-of-pocket losses; 24 percent went to pay for non-economic losses such as pain and suffering; 19 percent went to plaintiffs' lawyers; 14 percent went to defense costs; and 21 percent went to insurance overhead. "
I found this section in Better Justice: Bush's Missed Opportunity, which is quoting U.S. Tort Costs:2004 Update Trends and Findings on the Cost of the U.S. Tort System.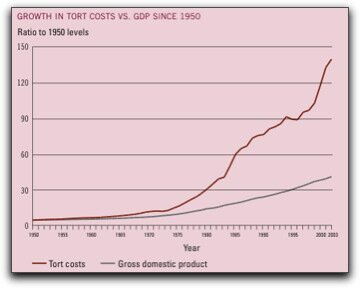 December, 2005
Sun
Mon
Tue
Wed
Thu
Fri
Sat
 
1
2
3
4
5
6
7
8
9
10
11
12
13
14
15
16
17
18
19
20
21
22
23
24
25
26
27
28
29
30
31
Nov  Jan